John P. (Jack) Campbell provides client-oriented, creative yet practical architectural services to home-owners and small businesses in North Shore, Rockport and Cape Ann, Massachusets and mid-coastal Maine communities.
We work in easy collaboration with contractors and builders to provide energy-efficient, green designs. We respect and blend historic regional structures with contemporary technology and life-style demands. We provide all levels of services from site studies to hourly consultation to full design through construction.
Please email or call us at the address above if you wish further information!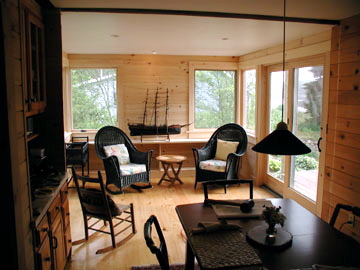 Sunroom in Maine Cottage