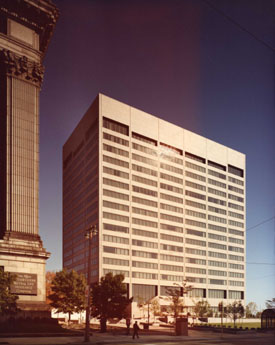 John P. Campbell was Project Architect for the NML Headquarters Office Tower, which was designed by the joint venture Sasaki Associates, Inc. & Swanke, Hayden, Connell & Partners. He was responsible the base building from its inception through completion, for the production and coordination of construction documents and for contract administration through construction.
The 500,000 square foot East Office Tower is part of a $70 million complex consisting of the 16 story office tower, a 735 car parking structure, a renovated historic office building, glass-covered bridges connecting the buildings of the complex, and two urban plaza spaces. It provides space for 1800 employees and the company's major computer facility, medical examination areas, and central record keeping for the entire company.
The exterior of the building is clad in warm brown granite with solar bronze insulating glass in dark bronze aluminum frames. The state-of-the-art long span composite steel structure with cellular floor system provides column-free, flexible space with ducted electrical, telephone, and computer circuits for office landscape systems which can be easily relocated as the needs of the company change.